To preserve memory and performance, I've been cutting several features from Rockbot, such as having two independante backgrounds with parallax.Even so, I could not assure that the device that is running the game could reach 60 frames per second in a constant way. So, looking how PS4 games are now adding setting much like the PC games, for user picking between performance or graphic quality, I've come with a new setting: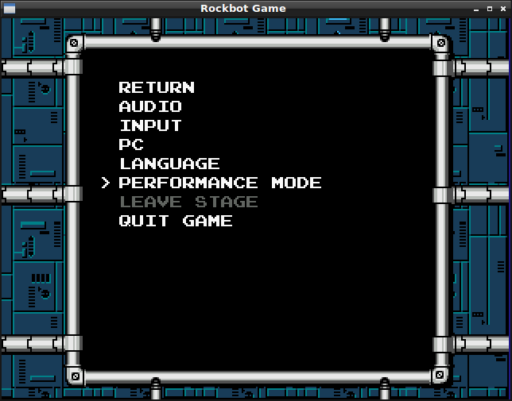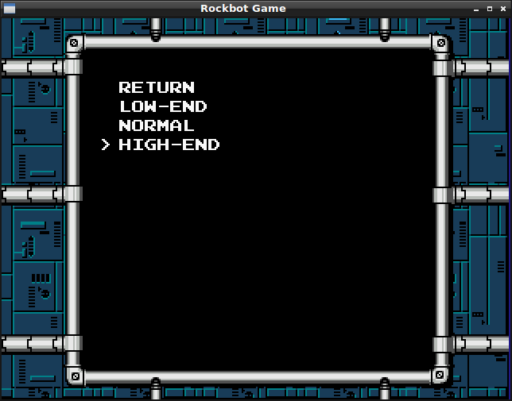 With this config, the ame will try to adjust as better as possible to run well, if using the low-end option, or with extra effects, using the high-end.
Remember I've said I removed the second background layer? Well, with high-end graphics mode, I will get it back, but as a foreground; and it even includes a setting for transparency!
Other feature I plan to add in high-end graphics mode is adding a blue transparent layer over water, and more should follow.
Now, i you have an slow device like the PSP, you can pick the low-end graphics mode that will adjust the game to run in 30 frames per second instead of 60, making physics and collision detection a bit worse, but assuring game does not run slower than it should.
There are still a long road until Rockbot 2 final version, stay tunned!
Vamos esclarecer isto bem: Upperland Studios é apenas um nome, o Rockbot é desenvolvido, basicamente, por uma única pessoa, durante o tempo livre, incluindo feriados e fins de semana.
Nunca recebemos dinheiro pelo jogo, pelo contrário, gastamos bastante com dispositivos e licenças.
Então, por favor, não damandem que finalizemos o Rockbot 2 cedo, o jogo vem em segundo lugar de nossas vidas particulares e é apenas um hobby, não uma profissão.
A menos que alguém pague para eu poder largar meu trabalho e ficar em casa só fazendo o jobo, nenhuma data de entrega será anunciada 😉
Enquanto isso, você spodem obter a versão beta e incompleta do jogo versão integral, aqui:
https://plus.google.com/communities/100624233898115016812