iuri
Posts by iuri
[lang_pt-br]O período de correção de bugs está indo bem, e eu gostaria de aproveitar a chance e explicar o porque da ausência da versão de Nintendo DS. ocorre que, durante o desenvolvimento do beta7, expandimos o tamanho da imagem png do tileset para caber as imagens das novas fases. Descobrimos, infelizmente, que o DS não consegue carregar um arquivo tão largo (não tem a ver com memória e sim tamanho em pixels). A solução é encolhermos o arquivo e refazermos algumas fases, ou separar, no DS, o tileset em dois arquivos. Infelizmente o DS é uma máquina muito ruim de se programar para, e por isso a solução deve ainda demorar um pouco.[/lang_pt-br]
[lang_en]The bugfixing period is going well, and I would like to take the opportunity to explain why the absence of the Nintendo DS port. It happens that, during beta7 development, we expanded the tileset image size to fit the images for the new stages. We then found, sadly, that the DS cannot load a large file (large meant pixel wise, and not memory/filesize). The solution is to shrink the image again and refactor some maps, or separate, only for the DS, the tileset into two files. Sadly, the DS is a very bad machine to develop for, and so, the solution will still take a while.[/lang_en]
[lang_pt-br]Para os nerds de plantão, e também para acompanhar o lançamento de um novo Ubuntu Linux, resolvemos homenagear o dia 42 (101010 em binário, para quem não entendeu, procure ler ou assistir o Guia do Mochileiro das Galáxias) com o lançamento de nosso último beta do Rockbot 0.1! Daqui em diante, apenas teremos correção de bugs ou pequenas melhorias, até o fim do ano, e a versão 0.1 deve ser realmente boa, já que estamos bastante contentes com o lançamento de hoje.
Entre em nossa seção de downloads para pegar binários para Linux, Ubuntu 10.04, Windows, Playstation 2 e Dingoo (Dingux).
A lista de modificações em relação ao beta6 é realmente grande, mas as principais mudanças são:
Oito estágios e um chefe final completamente jogáveis (se você não esbarrar em algum bug).
Música para todas as fases e chefes.
Mais efeitos de som, como na rebatida de tiros.
More do jogador – ainda acontece de você ficar invunerável após morrer, mas isso será removido na próxima versão, é para facilitar os testes.
Sprites para todos os chefes.
Melhor inteligência artificial para inimigos e chefes.
Armas de todos os chefes – para fins de teste, você pode usá-las mesmo antes de derrotar os chefes.
Janela de jogo escalada em Windows e Linux, já que 320×200 é muito pequeno para um monitor de computador.
Melhor menu – aperte o botão de ataque para sair de um menu.
Terreno tipo água de melhor sistema de colisão.
Versão para Dingoo (Dingux)
A versão para Nintendo DS está ausente até arrumarmos alguns problemas relativos a som e música nesta plataforma, mas temos uma nova versão para Dingoo rodando Dingux.
Esperamos que vocês gostem, e se acharem algum problema, nos informem. E não esqueçam sua toalha!
[/lang_pt-br]
[lang_en]For the nerds out there, and also to follow the release of a new Ubuntu Linux, we decided to honror the 42 day (101010 in binary) with the launch of out last beta of Rockbot 0.1! From now on, we'll have only bug fixing of small new expansions, until the end of the year, and version 0.1 should be really nice, once we are already very content with today's release.
Go to our downloads section to get binaries for Linux, Ubuntu 10.04, Windows, Playstation 2 and Dingoo (Dingux).
The complete changelog from beta6 is really big, but this release highlights are:
Fully playable (if you do not hit a bug) 8 stages and final boss.
Music for all stages and bosses.
More sound effects such as shot reflection.
Player death – after dead first time, you become half-invulnerable; makes easier for testing, will be removed on next version.
Sprites for all bosses.
Better artificial inteligence for NPCs and bosses.
Weapons for all bosses – for testing, you do not need to defeat the boss to try it.
Scaled window for Windows and Linux, as 320×200 is very small in a computer monitor.
Better menu – can leave pressing attack button now.
Water terrain and fixes on stairs and colision.
Port for Dingoo (Dingux).
The Nintendo DS port is absent until we fix some problems related to sound and music in this platform, but we have a new port, this time for Dingoo running Dingux.
We hope you enjoy and, if find any problem, tell us. And do not forget your towel!
Esperamos que vocês gostem, e se acharem algum problema, nos informem. E não esqueçam sua toalha!
[/lang_en]
[lang_pt-br]Bom, parece que as coisas não são tão fáceis quanto se esperava. Encontramos um bug realmente estranho, emq ue uma parte, apenas uma pequena parte, do arquivo de mapa não funciona direito no PS2. O estranho é que não tem absolutamente nada de anormal nesta estrutura de dados que poderia dar problemas no Playstation.
A solução vai ser fazer uma bela reengenharia nesta parte, que é a de objetos, para guardar estes dados em um arquivo a parte, só que isso vai levar um bom tempo… :-([/lang_pt-br]
[lang_en]Well, some things are not as easy as it looks. We found a bug really odd, in witch a part, a really small part, of the map file do not work as it should in PS2. The weird part is that there is absolutely nothing in this part that could, in theory, cause problems in Playstation.
The solution is to separate all objects part from the map file to a new one. But this will take some time… :-P[/lang_en]
[lang_pt-br]Já faz um tempinho que não atualizo o blog, mas podem ficar sossegados, o trabalho no Rockbot ainda está em andamento. O que acontece é que, neste estágio, ele é muito mais lento que o normal, pois temos que implementar algumas coisas novas e corrigir defeitos ao mesmo tempo que criamos as fases para os 8 chefes robôs. Neste meio tempo, uma pequena amostra do que está por vir:[/lang_pt-br]
[lang_en]It's been a while sinse I've updated the blog, but rest assured, the work in Rockbot is ongoing. What happens is that, in this stage, it is much slower than usual, due to us having to implement some new stuff and fix bugs while, at same time, create stages for the 8 robot masters. In the meantime, a little showcase of things to come:[/lang_en]
[lang_pt-br]Entre as várias melhorias que estamos fazendo para o próximo beta como suporte a terreno tipo água (pulos sem limite de altura e um pouco mais lento), mais armas de chefes implementadas, novos gráficos, fases completas para os 8 chefes, uma em especial, somente na versão PC, vai nos ajudar a melhorar a qualidade dos bugs gráficos: escala da tela em 2X, com filtro opcional.[/lang_pt-br]
[lang_en]Between the several new features we are working for our next beta release like water type terrain (large and slower jumps), more boos weapons, new graphics, complete stages for all 8 bosses, one in special, only for PC, will help us to improve the quality of graphical bugs: 2x scale with optional filter.[/lang_en]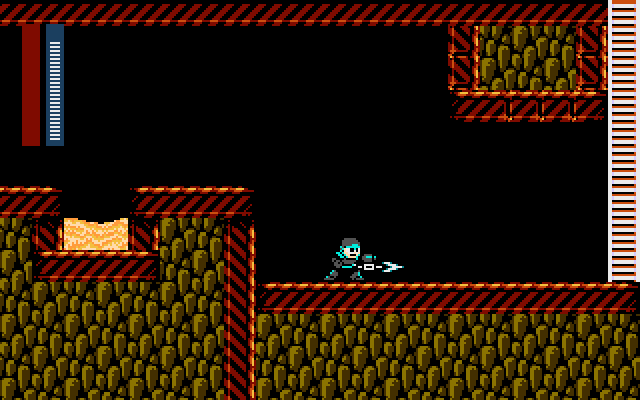 [lang_pt-br]O beta7 foi estabelecido como sendo metade para correções e metada para novas funcionalidades. No campo das novas funcionalidades, estamos inestindo em criar os 8 estágios iniciais, 2 estágios do castelo-caveira, armas de chefe e tanques de energia, sendo estas as condições minímas para que o lançamento do próximo beta seja feito.
Mas, para que os estágios sejam divertidos, e não apenas um corredor reto até a sala do chefe, é preciso que sejam implementados alguns objetos especiais como plataformas. Nós já temos suporte a diferentes tipos de objetos no formato de arquivo e editor, mas a detecção de colisão com estes, no jogo, estava bastante errada, daí então a necessidade de correção de bugs nesta versão. Ontem nós conseguimos corrigir este defeito, e as plataformas como movimento esquerda-direita agora estão completamente implementadas, apenas precisamos adicionar mais tipos, como as que se movem de cima para baixo e os famosos e odiados blocos que aparecem e desaparecem.
No fim das contas, este próximo beta deverá ser bastante próximo a versão final, ficando de fora apenas detalhes como o final do jogo (créditos), morte de jogadores (ela só atrapalha para desenvolver) e tanque de recarga de armas.[/lang_pt-br]
[lang_en]Beta 7 is meant to be a half bug-fix and half-development release. In the development, we are investing into creating the 8 initial stages, dialogs and 2 skull-castle stages, boss weapons and energy tanks, this being the "ready" factor for the release, after all is implemented, beta 7 will be out.
But for stages to be enjoyable, and not only a linear corridor until you reach the boss room, we need to implement some special objects such as platforms. We already have support for objects, of differtent kinds, including platforms, in the file-format and editor, but the implementation of colision with those were buggy. Yesterday we fixed the colision with objects and left-right moving platforms are full implemented and functional, now we just need to add more types as top-bottom and the famous and hated dissapearing blocks.
All in all, the next beta should be very near to the final version, being abscent only some details such as ending (credits), player death (this only makes development harder, for now) and weapon refill tank.[/lang_en]
[lang_pt-br]A semana a mais que decidimos usar para corrigir problemas com o beta 6 está valendo a pena. Já temos um sistema de som completamente funcional para o Playstation 2, tocando músicas – o formato é o velho Amiga-MOD, não iremos mais utilizar mp3 – e sons usando o formato wave. O único problema que resta é exatamente aquele que bloqueou o lançamento semana passada, e que será nossa prioridade a partir de hoje. Com os ports de Linux, Windows, Playstation 2 e Nintendo DS atingindo o mesmo nível de funcionalidade, poderemos novamente, daqui em diante, investir em outros ports, como Mac OSX e Xbox.[/lang_pt-br]
[lang_en]The extra week we took to fix problems in beta 6 build is paying off. We already have a sound system fully functional for Playstation 2 port, playing music – using the old Amiga-MOD format, as we won't be using mp3 anymore – and sounds in wave. The only remaining problem is exactaly the bug that blocked the release, and that will be our number one priority starting from today. With the ports to Linux, Windows, Playstation 2 and Nintenedo DS reaching the same functionality level, we can start looking again in ports to anothers systems such as Mac OSX and Xbox.[/lang_en]
[lang_pt-br]Nós decidimos lançar um beta intermediário neste fim de semana, com isso teremos ainda um beta 7 antes dos release candidates. O motivo é que precisamos estabilizar e testar um pouco o código, e ao fazer as builds sempre acabamos melhorando a qualidade do código.
ATUALIZADO: Encontrei um bug no Nintendo DS que causa o congelamento do jogo ao se carregar um mapa pela terceira vez. Por isso vamos levar mais uma ou duas semanas para lançar o beta 6. No tempo extra, vamos corrigir diversos bugs na versão de PS2 e tentar melhorar a implementação de som nele, usando a própria SDL_Mixer.[/lang_pt-br]
[lang_en]We decided to release an intermediate beta in this weekend, with that, we'll have a beta 7 before the release candidates. The reason is thar we need to stabilize the code a little, and making builds always help us to find and fix problems, improving code quality.
UPDATED: I've found a showstopped bug in the Nintendo DS that causes a freeze when loading a map for the tird time. So, we'll take one or two extra weeks to release beta 6. In the extra time, we'll fix several bugs in the PS2 version and try to improve sound on it, using the SDL_Mixer itself.[/lang_en]