iuri
Posts by iuri

This release is a tribute to all people of the beloved city of Santa Maria (Saint Mary) where I lived for more than 10 years and suffered a horrible tragedy yesterday. Rockbot is with all the families and victimis at his mechanical heart.
Get it, as usual, in the downloads section.
While we prepara for beta3, we are also looking to the future releases to plan witch features will be incorporated in each one, here is a small glimpse of what will be made:
Beta3: bug-fixing, new Artificial Inteligence (A.I.) system, A.I. for all bosses, Jet item, Coil item, better sprite system in editor and game.
Beta 4: bug-fixing, password system, in-game settings, skull-castle stages, better colision system using different sizes for each individual frame, projectiles/weapond editing
Beta5: bug-fixing, large code-optimization, refine editor and disable all non-used fields, key-config setting
Beta 6: better intro, better ending, inter-stage sequences like Ninja Gaiden, start porting (Android, Dreamcast, XBox, PSP)
RC: After that, a series o Release Candidate versions will be released, keeping file-format compatibility and focused only on bug fixing. Versions 1.X will have automatic file-format conversion, so; if you create a game using 1.0, the file should work fine on 1.X editor (and after adjusts to fill the new parts, playable).
Version 1.1: Artificial Inteligence editing, optimization using threads, create multiple NPCs using the same graphic-file with different colormaps
Version 1.2: Implement two simultaneous players
This surely will take a longe time, as this is a one-man project, but having a road map is good to keep us motivated to create a game that people will enjoy and a future engine that people will use to make their own Megaman-like games> Please, keep an eye on us and get reasdy to test beta 3 next need 😉
Today is a very special date, as Rockman (Megaman in USA) celebrates it's 25th anniversary!
Watching the release of Street Fighter vs. Megaman that was made by a fan and now supported by Capcom-Unity also makes a homebrew developer like me smile a bit and again focus on working in Rockbot's code once again after a while.
And for that special date, I need to write an explanation on Rockbot's current status:
The lack of news was due of me being a bit tired, as a single person developing almost everything into a game sometimes becomes boring, you have no one to exchange ideas with or some support when doing hard tasks. With day-work requiring much of my strenght and causing pain in my spine due to long hours sitting in a chair in front of a PC, Rockbot work was put aside for a few months.
In the last week I was finnaly able to resume working on it, and already coded all of Ape Bot's Artificial Inteligente (AI) and great part of Daisie Bot's too. Most of work is to create small functions such as "jump_to_player" where the enemy will execute a jump in the direction of the player, function that will be used not only by robot masters, but also small enemies. Another area of work are special attacks and improving a lot of the  projectiles system, so it supports a large number of attack types and variations. In short, a lot of boring work that will drasticaly improve all enemies on the game and, when you play our next beta and face Ape Bot, you WILL undoubtly understand 🙂
So, when is the next release? Well, I have 10 days of vacations in this year's ending, that probally win't help much, as I will travel and won't have much time to code, but in february I'll get more 20 days, so expect something in middle-march. Our plan is have all bosses working fine – instead of just standing there – and special weapon (coild, jet) working again, and with some luck, get sound working on PS2 and get a build for PSP.
That is it, good christmas and happy new year to everyone!
[lang_pt-br]Adicionada versão de PS2 na página de downloads. Por hora está sem som, não identifiquei a razão ainda pois meu ambiente de desenvolvimento para o PS2 precisa de alguns ajustes que farei durante a semana (preciso comprar mídias de CDROM para gravar o ps2link com as configurações corretas de IP para minha rede atual). Esta versão também NÃO funcionará a partir de um CDROM.
Adquiri mais um novo hardware a ser suportado em breve… aguarde novidades![/lang_pt-br]
[lang_en]Added PS2 version in the downloads page. For now, sound isn't working and I could not identify the reason, as my dev enviroenment for the PS2 needs adjusts that I'll make during the week (I need to buy CDROM medias to burn ps2link with the correct IP configurations for my current network). This version also will NOT work from a burnt CDROM.
I bought a new hardware to be supported soon… wait for news![/lang_en]

[lang_en]Thanks ro ragnarok2040 for helping me to compile Rockbot for PS2. Except for the sound and threads that needs to be fixed, things are running just fine for a first build![/lang_en]
[lang_pt-br]Obrigado ao ragnarok2040 por me ajudar a compilar o Rockbot para PS2. Exceto pelo som e threads, que precisam ser corrigidos, as coisas estão rodando simplesmente bem para um primeiro build![/lang_pt-br]
[lang_pt-br]Adicionado pacote de Open Pandora nos downloads, obrigado ao sigma nl pelo pacote!
Estamos tendo trabalho para compilar o jogo para Playstation 2, e deverá levar um tempo até conseguirmos pois o SDK para este sistema está abandonado por mais de dois anos e ninguém tem o conhecimento necessário para ajudar a resolver o problema com o linker. A boa notícia é que breve teremos um novo hardware portátil a ser suportado oficialmente, se tudo der certo.[/lang_pt-br]
[lang_en]Added Open Pandora package in downloads, thanks to sigma nl for the port!
We are having a hard time to compile the game for Playstation 2, and it shall take a bit long until we sucefully port it as the SDK for this system is not supported for more than two years and no one have the needed knowledge to help us fix the issue with linker. The good news is that a new portable system should soon join the official supported devices, is all goes well.[/lang_en]
[lang_pt-br]
Depois de muita demora (tudo culpa do Playstation 3, hehehe) lançamos uma nova versão, bastante revisada e melhorada, do jogo e engine Rockbot.
Para obter os arquivos, vá até nossa página de downloads.
Confira as mudanças completas no arquivo de TODO/Changelog.
[/lang_pt-br]
[lang_en]
After much delay (all fault of the Playstation 3, heheh) we are releasing a new version, much improved and expanded, of the Rockbot game and engine.
To get the files, go to out downloads page.
Check the full changes list in the TODO/Changelog file.
[/lang_en]
[lang_pt-br]Olá a todos. Primeiro, gostaria de pedir desculpas pela falta de novidades no blog por um período tão longo; segundo, explicar a falta de novidades ultimamente. COmprei uma TV de 40 polegadas LCD/LED e um Playstation 3, que, por sí só já explica porque não tenho trabalhado no Rockbot. Estou me divertindo aos montes jogando alguns jogos da geração atual e, consequentemente, tenho muito pouco tempo para desenvolver em casa; além disso, está esfriando aqui no sul, então ficar em casa na frente do PC de noite não é muito chamativo.
As boas novas são que eu não gostei bastante de Megaman 9 e 10, acho que as fases são fuleiras, com uma dificuldades que lembra o Megaman 1, com armadilhas que estão lá não para tornar o jogo mais desafiador, mas simplesmente para matar o jogoador até que ele memorize a fase toda.
Eu plano retomar o trabalho de correção de bugs e implementação de novas features no Rockbot, e para começar, farei algumas mudanças, como a resolução que passará para 320×240, the é o tamanho da tela do Dingoo A320 e é bem suportada no Playstation 2. Isso não apenas vai corrigir alguns bugs, como também será mais simples portar estágios do Megaman, já que o NES tem 224 linhas verticais e estávamos usando somenta 200 até então. Além disso, cada sprite do jogador terá sua própria dimensão para fins de colisão, tornando o sistema muito melhor.
O próximo beta também irá ter os estágios repletos de inimigos ao invés do vazio atual, então, fique atento![/lang_pt-br]
[lang_en]Hey all. First, my apologies for not updating the blog in such a long time; second, let me explain the lack of news lately. I bought a new 40″ LED/LCD TV and a Playstation 3 console, that, by itself explains why I'm not currently working on Rockbot. 🙂
I'm getting a lot of fun playing some new-gen games, and thus, there is very little time for developing at home; plus, its getting really cold on south hemisphere, so, staying in front of the computer isn't very compelling. The good news, is that I disliked a lot Megaman 9 and 10, I think the levels are just cheap, with a dificulty that remembers Megaman 1, with traps that are placed not to make things harder, but to just kill the player until he memorizes the whole stage.
I plan to soon resume work on bug fixing and a new missing new features on Rockbot, and to begin, I'll be adding some changes, such as resolution, that will be now 320×240, that is the size of Dingoo A320 screen and is well supported in PS2. This will not only fix some bugs, but also, better support porting stages from Megaman, as the NES is 224 vertical lines and we were using only 200 so far. Also, each player sprite will have its own size for colision, making it much better.
Next beta also will feature stages filled with enemies instead of empty ones, so keep tuned.[/lang_en]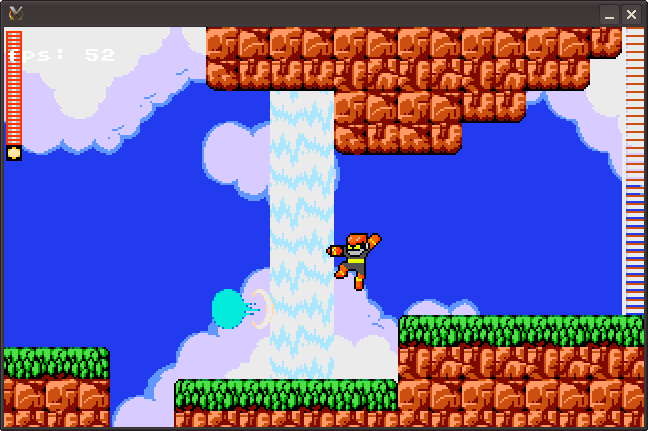 [lang_pt-br]Levou mais tempo que o desejado, mas o primeiro beta da versão 1.0 do jogo Rockbot finalmente está pronto. Vá para nossa página de downloads para pegar sua cópia.
Nós usamos o tempo entre a versão alfa e este beta para não apenas corrigir inúmeros problemas, como também introduzir algumas novidades interessantes, como tiro carregado e escorregão; portanto esta nova versão pode ser uma grata surpresa para quem ficou desapontado com o alfa.
A lista de modificações é bastante extensa:
BETA1:
– reduce hit push back
– test all stages to assure all can be finished:
– hide map link numbers
– fix rockbot ears color in stairs frame
– check that all stages have checkpoints in valid points and in boss door
stages – TECHNOBOT – scroll is stopping near the end of stage, review
stages – SEAHORSE – needs some adjusts in boss room (use map #3)
stages – DYNAMITE – scroll is stopping in two points, review
– player jump must not be interrupted because out of screen (top)
– showing destrin logo before killing all 8 bosses (due to intro stage)
– implement "demo stage"
– jumping NPC is dying because out of screen 🙂
– holding left/right on transitionScreen is STILL moving player to the wrong place !!!!!! :-/ (was missing reseting the last_scrolled, duh!)
– faster walking sprite movement
– fix 3 pixel diference between jump and jump_attack sprites
– implement checkpoints
– fix character leaving and returning to platform when the platform moves
– fall/fky platforms must slowly return to the original place after activated (thus, must not be destroyed when out-of-screen)
– charged shot is not swapping colors
– implement objects movement
– implement go-up platform (same as fall one, but to top direction)
– fix platform moving player because of head
– fix up/down platform colision (not coliding)
– add OPEN_PANDORA build mode
– if save exists, default cursor position must be "load" instead of "new" game
– bg2 was not being shown in technobot's stage
– finish colorcycle stages implementation for seahorse and daisiebot
– when on "demo mode", boss gravity must not stop before half-screen
– bug: platform object types are falling (gravity)
– fix colorcycle showing weird colors
– fix for menu being show and froze after stage selection (input.clean needed)
– add open pandora keys
– add #define for HANDLELD (Dingux/Pandora)
– boss dialog must be controlled outside boss class, using game class instead (fix player being able to move during it)
– reflected projectiles are not being destroyed (thus player can't shoot anymore)
– find references to "./" and replace by FILEPATH
– stage colorcycle optimization
– fix for menu being show and froze after intro (input.clean needed)
– walk-attack animation is changing quickly
– shot is reflecting on shielded-NPC even when it is attacking
– create face for Milonga
– edit link error (was erasing links if same stop but not same map)
– hiatus in horizontal transition scrolling
– objects need gravity
– when killing a boss that isn't any of the 8 that give weapon, player must teleport out of screen
– implement boss-room dialog (OK on file-format)
– do not show boss dialog if none was set
– EDITOR: first character or object in editor is not setting the right image filename
– implement all weapons usage
– timed-bomb explosion (morph projectile concept)
– shooting is not making any sound
– implement map bg1, bg2 and bgcolor (different planes)
– implement and review ending
– if hit and pass a door, is moving to the wrong direction (must be using player direction, should use player movement)
– show object makes player, npc, objects and 3rd level of tiles to blink
– fix boss door
– doors from left to right are not locking player/scroll
– scroll has a kind of "kick" when moving after a door
– from left to right scroll-lock is not showing the locked tiles (stops scrolling too early)
– entering a room with doors is moving player to an unknown location
– after shooting some times, you can't do it anymore (projectiles are not being destroyed?)
– when pushed back by being hit, background is scrolling in the wrong direction
– editor: there is a bug in stage dialog editor
– weapon menu is not showing the right player HP on "normal weapon"
– implement/test load(save) game
– esc on start screen is not making game to leave
– got_weapon for stages other than the 8 should just explode boss and then leave
– crash when loading save and reopening a beaten stage
– crash when using esc at stage selection screen
– after killing apebot, is showing got weapon for "desert scorpion"
– editor: implement weapon edit
– editor: implement stage boss weapon selection
– background color is using wrong data/colors
– background repeat is failing for intro stage
– rework intro
– player shot is not making any sound
– after falling, is not changing from ANIM_TYPE_JUMP to STAND
– dialog accept jump button
– weapons menu coloring selected item
– weapons menu: add delay on change item
– holding a key while on vertical teleport/transition makes the player go to an invalid position out of screen
– implement NPC spawn (as attack or when killed – need adjusts in file and editor)
– seems like game is loading the initial stage twice
– use NPC spawn for mummy bot weapon (scorpion)
– use L/R keys to change between weapons
– implement freeze weapon
– partial implementation for quake (missing damage on NPCs)
– separation for execute and show in characters (used in freeze)
– sound for charging shot
– background1, background2 and background_color into map file-format (not used yet)
– file-format review and freeze (changes will be made from 2.0 to 2.0.1, 2.0.2…)
[/lang_pt-br] [lang_en]
It took a bit longer than expected, but Rockbot's game first 1.0 beta is finally ready. Go to our downloads link to grab it.
We used the time between alpha and this beta not only to fix several issues, as also introduce some interesting news, like charged shot and sliding; thus, this new version can be a pleasant surprise for those who were unhappy with alpha 1.
Changes list is very extense:
BETA1:
– reduce hit push back
– test all stages to assure all can be finished:
– hide map link numbers
– fix rockbot ears color in stairs frame
– check that all stages have checkpoints in valid points and in boss door
stages – TECHNOBOT – scroll is stopping near the end of stage, review
stages – SEAHORSE – needs some adjusts in boss room (use map #3)
stages – DYNAMITE – scroll is stopping in two points, review
– player jump must not be interrupted because out of screen (top)
– showing destrin logo before killing all 8 bosses (due to intro stage)
– implement "demo stage"
– jumping NPC is dying because out of screen 🙂
– holding left/right on transitionScreen is STILL moving player to the wrong place !!!!!! :-/ (was missing reseting the last_scrolled, duh!)
– faster walking sprite movement
– fix 3 pixel diference between jump and jump_attack sprites
– implement checkpoints
– fix character leaving and returning to platform when the platform moves
– fall/fky platforms must slowly return to the original place after activated (thus, must not be destroyed when out-of-screen)
– charged shot is not swapping colors
– implement objects movement
– implement go-up platform (same as fall one, but to top direction)
– fix platform moving player because of head
– fix up/down platform colision (not coliding)
– add OPEN_PANDORA build mode
– if save exists, default cursor position must be "load" instead of "new" game
– bg2 was not being shown in technobot's stage
– finish colorcycle stages implementation for seahorse and daisiebot
– when on "demo mode", boss gravity must not stop before half-screen
– bug: platform object types are falling (gravity)
– fix colorcycle showing weird colors
– fix for menu being show and froze after stage selection (input.clean needed)
– add open pandora keys
– add #define for HANDLELD (Dingux/Pandora)
– boss dialog must be controlled outside boss class, using game class instead (fix player being able to move during it)
– reflected projectiles are not being destroyed (thus player can't shoot anymore)
– find references to "./" and replace by FILEPATH
– stage colorcycle optimization
– fix for menu being show and froze after intro (input.clean needed)
– walk-attack animation is changing quickly
– shot is reflecting on shielded-NPC even when it is attacking
– create face for Milonga
– edit link error (was erasing links if same stop but not same map)
– hiatus in horizontal transition scrolling
– objects need gravity
– when killing a boss that isn't any of the 8 that give weapon, player must teleport out of screen
– implement boss-room dialog (OK on file-format)
– do not show boss dialog if none was set
– EDITOR: first character or object in editor is not setting the right image filename
– implement all weapons usage
– timed-bomb explosion (morph projectile concept)
– shooting is not making any sound
– implement map bg1, bg2 and bgcolor (different planes)
– implement and review ending
– if hit and pass a door, is moving to the wrong direction (must be using player direction, should use player movement)
– show object makes player, npc, objects and 3rd level of tiles to blink
– fix boss door
– doors from left to right are not locking player/scroll
– scroll has a kind of "kick" when moving after a door
– from left to right scroll-lock is not showing the locked tiles (stops scrolling too early)
– entering a room with doors is moving player to an unknown location
– after shooting some times, you can't do it anymore (projectiles are not being destroyed?)
– when pushed back by being hit, background is scrolling in the wrong direction
– editor: there is a bug in stage dialog editor
– weapon menu is not showing the right player HP on "normal weapon"
– implement/test load(save) game
– esc on start screen is not making game to leave
– got_weapon for stages other than the 8 should just explode boss and then leave
– crash when loading save and reopening a beaten stage
– crash when using esc at stage selection screen
– after killing apebot, is showing got weapon for "desert scorpion"
– editor: implement weapon edit
– editor: implement stage boss weapon selection
– background color is using wrong data/colors
– background repeat is failing for intro stage
– rework intro
– player shot is not making any sound
– after falling, is not changing from ANIM_TYPE_JUMP to STAND
– dialog accept jump button
– weapons menu coloring selected item
– weapons menu: add delay on change item
– holding a key while on vertical teleport/transition makes the player go to an invalid position out of screen
– implement NPC spawn (as attack or when killed – need adjusts in file and editor)
– seems like game is loading the initial stage twice
– use NPC spawn for mummy bot weapon (scorpion)
– use L/R keys to change between weapons
– implement freeze weapon
– partial implementation for quake (missing damage on NPCs)
– separation for execute and show in characters (used in freeze)
– sound for charging shot
– background1, background2 and background_color into map file-format (not used yet)
– file-format review and freeze (changes will be made from 2.0 to 2.0.1, 2.0.2…)
[/lang_en]