iuri
Posts by iuri
First and foremost, I want you to please notice, Upperland Studios is not an actual company, nor we gain any money from the game right now. Rockbot is a homebrew game, literally; and I have a daily job because making free games does not pay any bills. Check the FAQ for further details.
Now about the recent development of Rockbot 1 and 2, sadly I need to inform there is none being done currently.
This year is by far one of the most complicated in all my life. In short, I was fired from a job I loved, the new job is good, but I'm still learning about the system I'm developing for, so it takes a lot of energy from my person. There were other family problems, and during this very complex time my older brother passed away. A lot more happened after that, so I had no mindset to work on Rockbot anymore.
I am still recovering from the series of unfortunate events and, meanwhile, I am focusing in renovating my apartment. With the help of my dear wife, I painted the room that we use as an office for our computers and games because I got new furniture to hold all my game consoles, DVDs and some toys I do collect. I will now paint the bedroom, that will receive new furniture to store bed linen and other stuff, so my house becomes more organized, as I also organize my emotions and toughs.
I hope you please understand that, this is why Rockbot's development is not a priority on my life right now. Once I again feel the passion for developing games, I will resume work, rest assured. But for now, I will take a break.
Iuri Fiedoruk.
make lighting effect transparent with alpha
make enemies projectiles appear above them
fall and up/down platforms must not stop on spikes
more items and checkpoints for easy difficulty
#105: reset jump when starting or restarting stage
#70: remove 3rd level showing on celebration
#95: reset charging sound and reset button state when changing weapons
#100: check direction for second projectiles
#106: do not call update screen when showing BG in boss_presentation
#108 implement crash report system for errors generated by the game-engine itself
#102: update save-slot selection images
#104: add RLE optimization in set_surface_alpha
Don't forget to inform bugs, errors or problems to bugs@upperland.net.
new animation for coil and jet teleport
#54: Infoway: pop-up enemies on stairs are displaced
#74: Change metools to attack on player direction
#77: Hero displacement at checkpoint restart
#80: Power-ups disappear when going into inventory
#83: Correct variable names in fly-to-ran(x/y/point)
#84: Dark Mine: secret area blocks are badly synced, no way to get back
#85, #86: Ground turrets displaced
#87: fading blocks get hero stuck
#88: When stage starts, horizontal ray shows cut
#89: When stage starts, vertical ray won't show animation
#96: Fixes for gamepad controller
#93: New projectile types: missile rain and double shot
useSDL_gfx rotate in target_exact missiles, fixes #76, #71 and #55
adjust proguard mapaing location in android's build script, fixes #98
reset timer to zero for disappearing blocks, fix #64, fix #44
add debug tools, fix #23
remove projectiles and npc_freeze_effect when player changes weapon, fix #79
remove old and deprecated get_hitbox from npc class, use the one from character instead, fix #99
missing game_save on parameter, fixes #46
set saved_point on first AI* execution
implement solution for #70, improve celebration
move player to above platform to prevent him getting stuck, fixes #87
new projectile type, rain of bombs
create large-beam (like a kamehameha) projectile-type
fix object transition on stairs
fixes for projectile spawning children
fixes for physical joystick config
new graphics from Boberatu for Dr. Destrin, Giant Toxic Hat and more
make freeze effect stop objects, fixes #69
missing adjust_y in some object types show method. fixes #68
So, lots of people believes Upperland as a great game development studio, with professionals goind forth and back. Sorry, but the game only can't be called a garage one, because I live into an apartment, so I have no garage at all, nor a car.
But, to satisfy people's curiosity, I'll show a few pictures of the environment where I code and develop Rockbot.
Lets get this right: Upperland Studios is just a name, Rockbot is developed by mostly a single person on free time, weekends and holidays.
We never got any money from the game, by contrary, we spend a lot buying devices and licences.
So, please, do not demand we finish Rockbot 2 soon, the game comes in second place after our personal lives and is just a hobby, not a profession.
Unless someone pays me to work only on Rockbot and leave my daily job, no release dates will be given 😉
Meanwhile, you can get the beta and incomplete for the full version in out google plus community:
To preserve memory and performance, I've been cutting several features from Rockbot, such as having two independante backgrounds with parallax.Even so, I could not assure that the device that is running the game could reach 60 frames per second in a constant way. So, looking how PS4 games are now adding setting much like the PC games, for user picking between performance or graphic quality, I've come with a new setting: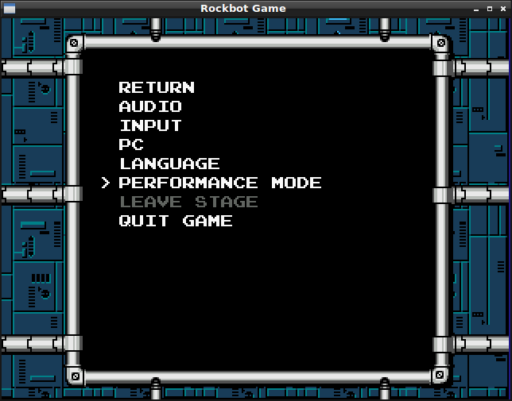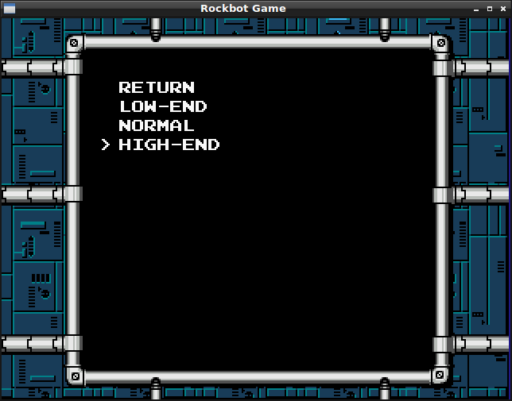 With this config, the ame will try to adjust as better as possible to run well, if using the low-end option, or with extra effects, using the high-end.
Remember I've said I removed the second background layer? Well, with high-end graphics mode, I will get it back, but as a foreground; and it even includes a setting for transparency!
Other feature I plan to add in high-end graphics mode is adding a blue transparent layer over water, and more should follow.
Now, i you have an slow device like the PSP, you can pick the low-end graphics mode that will adjust the game to run in 30 frames per second instead of 60, making physics and collision detection a bit worse, but assuring game does not run slower than it should.
There are still a long road until Rockbot 2 final version, stay tunned!

Well, plans change. Last time I was planning 2-months releases with minor fixes, but due to the help of several people, I decided to push ahead a plan to create Rockbot 2, but things are never that simple.
First, the main reason for the change, is not that I wanted to create a new game at all, but that the best way to fix most of the issues on Rockbot 1, is simply dropping compatibility to the game-data and refactoring large pieces of code and adding features that would be impossible with the old version. That said the main reason for Rockbot 2 is actually separating game-engine and game itself. To tell you the truth, the engine will now support multiple games. So you can expect the first "Rockbot 2" to be.. "Rockbot 1"!(?)
We'll convert the old game to the new format/engine, so that it takes advantage of all fixes and new featurs such as running at 60 FPS with much better jumping, and to find issues and missing features on the new engine to prepara for a future Rockbot 2 release. And that is I wanted to tell you guys, the second game will take time to get out, we'll only release a single demo with one stage. The reason is that there are a lot of things we need to change and fix, and we want to make the game better than the previous one, that was nice, but a bit simplistic in stages interaction. Let me give you a good example, in megaman 3, on Magnet stage, there were thos little flying magnets that pulled Megaman and allowed him to cross some pits. This was unique to that stage, and gave something that related how you play the stage with the stage theme, magnets in this case. I want this type of integration in the game, but that takes time, first to design the stage and put the ideas on paper, then create code, graphics, artificial inteligence, enemies to finally test all.
All in all, good news Rockbot 2 is real, bad news is you will need a bit of patience 🙂
[lang_pt-br]Esta nova versão, com diversas correções de erros está disponível para sua diversão. Como de costume, você pode baixar o jogo em nossa pagina de downloads. As mudanças desta versão, são:
permitir ao usuário definir cima/baixo/esquerda/direita nas configurações de controle.
a configuração de controle será aplicada apenas ao sair do menu de configuração.
correção para evitar que a versão release do editor quebre no Windows.
transição de tela mais rápida no Android.
impedir jogador de disparar mais projéteis após utilizar um ataque especial de braço de armadura.
nova checagem do número máximo de projéteis que leva em conta o tipo, arma ou normal, dos mesmos.
se o pulo passar de 80% da altura, continue o executando mesmo que o jogador solte o botão de pulo.
novo tipo de objeto, para cápsula do chefe final, que resolve o problema do personagem desaparecer na última fase após derrotar os 8 chefes.
não permitir jogador pular quando estiver na animação de atingido.
reduzido tempo e quantidade de movimento para trás quando o personagem é atingido.
diminuído o tempo de duração de animação de quando atingido, pois estava maior que o tempo de intangibilidade.
Ajustada inteligência artificial do Dynamite para ele não dar dash ao ser atingido, pois era muito injusto para enfrentá-lo.
Os projéteis do Shocker agora usam trajetória tipo senóide.
novos gráficos para estágios e ajustes em tiles, tileset e fundos da mapa.[/lang_pt-br]
[lang_en]A new version with several bug fixes is now out for your fun. As usual, grab the program from our downloads page. Changes are:
allow user to set up/down/left/right keys in input config.
the input configuration will be applied only when the user leaves the config menu.
fix editor release version crashing in Windows platform.
faster screen transition in Android.
do not allow player to shot more projectiles after firing an amor-piece special one.
check the maximum number of projectiles depending on type, weapon or normal.
if jump height surpasses 80% of total height, continue jumping even if player releases the jump button.
new object-type for last boss capsule, fixing the old bug of player vanishing on last stage after beating all 8-bosses.
do not allow player to jump while on push-back.
reduce push-back duration and movement.
adjust hit animation to endure only while player is intangible.
change Dynamite's AI*, so it won't dash when hit as it makes the fight too unfair.
Shocker's projectiles must use sin trajectory.
new graphics for some stages and adjusts in tiles, tileset and map backgrounds.[/lang_en]