admin
This user hasn't shared any biographical information
Posts by admin
[lang_pt-br]Como o beta5 atrasou, nós temos que dar uma acelerada no beta6, então, aqui já está uma novidade implementada esta manhã, logo após o lançamento do beta5 ontem à noite:
[/lang_pt-br]
[lang_en]As beta5 was delayied, we now have to hurry beta6 a bit, so, here are the first new feature implemented this morning, after beta5 release last night:
[/lang_en]
[lang_pt-br]Desculpem pelo atraso a mais, eu e minha esposa pegamos uma gripe – está esfriando bastante no hemisfério sul neste momento.
Esta versão não contém grandes mudanças, já que nós focamos principalmente na correção de bugs, melhorias, início de limpeza e melhoria geral do código. Algumas das novidades são:
adicionada gravidade, então o pulo está melhor agora
adicionado um menu de opções
melhorado o sistema de efeitos sonoros do PS2
melhor detecção de colisão
Alguns problemas conhecidos:
botões no joystick do segundo jogador não funcionam no PS2
efeitos sonoros no PS2 tem um certo eco
scrolling não está funcionando para o jogador 2,, que ainda pode sair da área visível da telaarea of the screen
Mais informações podem ser encontradas em nosso Arquivo roadmap.
Agora, eis os links para download:
[lang_en]Sorry for the extra delay, me and my wife just got a cold – it is getting cold in the south hemisphere right now.
This release is a minor one, as we mostly focused in bug fixing, improving things, started cleaning code and making it better in a general way. Some improvements are:
added gravity, so jump fells much better now
added an options menu
improved PS2 sound effects and speed
better colision detection
Some issues known are:
second player buttons not working in PS2
sound effects in PS2 have some repeating
scrolling is not working for player2, and he can leave the visible area of the screen
More information can be found in our Roadmap file.
Now, to the download links:
[lang_pt-br]Um novo vídeo para mostrar algumas das possibilidades que a versão beta5 nos abre, como simular uma fase de Megaman 9:

[/lang_pt-br]
[lang_en]A new video to show some of the possibilities that beta5 version opens up, like simulating a stage from Megaman 9:

[/lang_en]

[lang_pt-br]Esta tem sido uma longe jornada, mas as recompensas estão começando a se mostrar. Apesar de ainda termos muitos problemas e bugs no código, esta é a primeira versão realmente direcionada para teste pelos usuários, e estamos orgulhosos dela, e esperamos que vocês goste! As maiores melhorias são:
editor de fases (apenas Linux por hora, mais tarde hoje lançaremos a versão Windows como um pacote separado com as dlls necessárias).
teleporte entre mapas usando buracos/escadarias, permitindo menos uso de memória e tornando possível a versão para DS.
Suporte a Nintendo DS – ainda um pouco lento, já que nosso código está repleto de informação de debug.
Suporte a múltiplos NPCs – agora eles são criados no editor, permitindo a nós, adicionarmos facilmente eles; por hora temos um Rock metall um Escudo a jato e um chefe, o Ape (Gorila) Bot.
Iniciadas as bases para comportamento de NPC – eles podem fazer diferentes coisas agora.
Suporte a som – temos música e sons em Linux e Windows e som experimental em PS2.
Alguns sprites novos criados por Rodrigo Hahn.
Um grande estágio para testes com vários tiles novos.
Os problemas conhecidos são:
NPCs que se movem, quando mortos, deixam um rastro de fundo fora do lugar.
o som no PS2 praticamente congela o jogo enquanto toca, você pode desabilitá-lo com o botão triângulo para uma experiência mais suave.
A versão de DS é lenta em razão de informações de debug.
alguns NPCs mostram comportamento errático e gráficos misturados – toda esta parte será refeita no beta 5.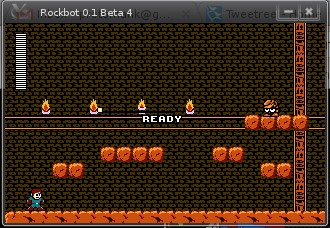 Bom, chega de conversa, aqui estão os arquivos:
[lang_en]This has been a long road so far, but the rewards are starting to show up. While there are still lots of problems to solve, bugs in the code, this is the first release that is really targeted for users to test, and we are proud of it, and hope you enjoy it!. Biggest improvements are:
stage editor (Linux only for now, we'll ship the Windows version later today, as we need to find out all dll files that are needed to distribute).
teleport between maps using holes/stairs, allowing less memory usage thus making possible the DS port.
Nintendo DS port – still a bit slow, since our code is filled with debug information.
Multiple NPC support – now they are created by the editor, so we can easily add more; for now we ship with a rock metall, a jet shield and Ape bot as boss
Started the basis for NPC behavior – they can do different things now.
Sound support – we have sound effects and music in Linux and Windows, and experimental sound effects in PS2.
Some new sprites by Rodrigo Hahn.
A new, big stage, with improved tileset for tests.
Known issues are:
moving npcs, when killed leave a trail of background in the wrong position.
sound in the PS2 kind of stop the game execution, you can disable it with the triangle button to have a smooth playing experience.
DS version is slow due to debugging enabled.
some NPCs show strange behavior or wrong graphics – this part will be re-built in beta5.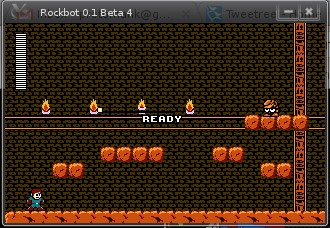 Well, that is it, enought talk, here are the binaries:
[/lang_en]
[lang_pt-br]Em primeiro lugar, eu gostaria de saudar o nosso novo colaborador, artista gráfico e mestre de pixels, Rodrigo Machado Hahn. Ele irá ajudar a desenvolver a arte em pixels, o que é uma ótima notícia, já que nós não possuíamos ninguém bom neste departamento. A Aris vai continuar tocando o design e arte, inclusive criando uma apresentação em Flash para nosso jogo, enquanto o Rodrigo assume a arte geral dos gráficos de jogo. Bem-vindo Rodrigo!
Bom, a outra notícia é que terminamos o período de desenvolvimento do nosso quarto beta. Enquanto algumas features foram adiadas para o beta5, várias outras foram incluídas já nesta versão, e quem começar a brincar com o editor, terá uma experiencia bem mais rica do que apenas criar o gráfico, pois poderá definir gráficos, tamanho dos sprites, Inteligência Artificial e outros detalhes de cada NPC. Confira nossa seção de screenshots para mais detalhes; vamos constantemente colocar mais arte e telas conforme progredimos. A partir de agora, passamos a correção de bugs, que acreditamos irá levar mais um mês, portanto aguarde um novo lançamento para o início de maio.[/lang_pt-br]
[lang_en]In first place, I would like to welcome out new member, graphical artist and master of pixels, Rodrigo Machado Hahn. He will help developing pixel art, that is great news, since we do not had in our team anyone on this area. Aris will keep doing design and art, including a Flash presentation for our game, while Rodrigo will take the game graphics art. Welcome Rodrigo!
Well, the other news is that we finished the development phase of our fourth beta. While some features were postponed for beta5, several others made their way into the current one, and who stars playing with the editor will have a much richer experience besides creating maps, because he will be able to set graphics, sprite size, Artificial Inteligence and other details for each NPC. Check our screenshots section for more details; we will constantly put more art and screenshots while progressing in development. From now we will fix bugs, that we believe will take a full month, so wait for a release in the beggining of may.[/lang_en]
This release adds Ubuntu and Playstation (both USB and CDROM) packages to the Windows one.
Please notice those known bugs while testing it:
projectiles are clearning the screen in the wrong position (above)
sometimes the game freezes
colicion detection have a bug that allows player to "walk in the air"
Now get it on our project page at sourceforge: https://sourceforge.net/projects/rockman-engine/files/
Changelog includes:
DONE – one/two player mode
DONE – allow multiple instances of a same NPC (to reuser the same graphics in a different position)
DONE – adjust players initial position
DONE – add players HP bars
DONE – fix collision verification when falling from a jump and moving left/right (still needs more work)
DONE – make NPC shield itself (shiled flag, plus frame zero in animation)
DONE – player hit animation
DONE – add collision verify into player hit animation to not move where it can't
DONE – NPC hit animation
DONE – player hit animation
DONE – make players loose 3 hit points when touching a NPC
DONE – fix jump+shoot and walk+shoot animation
DONE – player teleport animation in stage start
DONE – "ready" text animation on stage start
DONE – align hit animation centered vertically and horizontally to the player or npc
DONE – editor: add fill tool (still needs work for non-continual areas like a square)
NOT  – separate hit into NPC check into a separate function and call it even if player is stopped
DONE – make NPC shoot
DONE – NPC shoot must diminish 1 HP from players when hit them
DONE – NPC killed animation
DONE – editor: show locked areas only when in lock-mode
DONE – editor: always show grid
DONE – map PS2 joystick buttons correctly
DONE – fix timing for PS2
DONE – use timers instead of counters
DONE – adjust timings
DONE – npc face to RIGHT
DONE – npc shoot from left to right
DONE – optimize sprites: only clear-draw if made scroll or another sprite is over it, make it very short
DONE – initialize units for PS2 according to need (use argc to find run path)
DONE – 2 player on pc freezes when there is no joystick attached
DONE – player hit from shot coming from left, must face left
DONE – finish player sprites adjustments (teleport on P2, p1 new face)
DONE – fix small underscreen bug on top of the screen (changed map, still a mistery)
DONE – show projectile more near to the hit target (is vanishing too soon)
DONE – underscreen when player hit is doing something wrong, drawing background from previous version AFTER moving
DONE – fix scrolling that is goind beyound the end of screen width
DONE – create a complete map (without boss)
DONE – add a small text in the stage ending (beta and credits)
DONE – shots are moving in the Y axies when scrolling
DONE – fix npc-player colision function for PS2
DONE – make linux version run from anywhere (and not only from ./)
DONE – create an official PS2 build
DONE – create deb package for Ubuntu/Linux